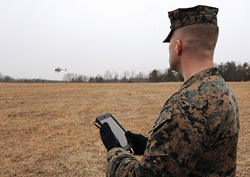 (PRWEB) January 30, 2015
Kutta Technologies announced nowadays that they are a key member on the Office of the Naval Research's (ONR) Autonomous Aerial Cargo Unmanned Resupply System (AACUS) group.
&#13
Kutta, operating in partnership with Aurora Flight Sciences, developed the Human Machine Interface (HMI) technologies for the Main Operating Base (MOB) and Combat Outpost (COP). The application Kutta created in the Phase I competitors runs on a commercial-off-the-shelf (COTS) iPad Mini and makes it possible for a Marine in the field to request needed supplies and denote the actual locations of exactly where to precisely drop them. When the request for supplies is made, it is routed via the program and the application autonomously generates a safe route to the landing zones. The secure route requires into account terrain, the airspace allocated to the mission, and other mission-particular parameters to make certain a profitable resupply. After the unmanned resupply aircraft is inside range, it scans the desired landing zone and negotiates with the COP operator to determine a appropriate landing place.
&#13
All the HMI devices have been developed employing thorough human factors engineering style methodologies recognized as Cognitive Process Analysis. "Our objective was to design and style an intuitive user interface that allows an operator to achieve a effective mission with only 15 minutes of education," mentioned, James Bona, Software Developer for Kutta Technologies. Throughout the ONR flight demonstration, Kutta exceeded all HMI benchmarks and enabled the COP operator to flawlessly supervise 13 successful unmanned approaches and two planned wave-offs.
&#13
"Recently, Amazon® demonstrated a tiny unmanned aircraft in a controlled atmosphere that someday might provide books to your doorstep. We in fact did it with a huge helicopter, in winter condition, and with blowing snow. Our method could carry situations of books or health-related supplies that could save lives. This is no longer a dream. The technology is feasible these days." – said Doug Limbaugh, CEO of Kutta Technologies.
&#13
In the Phase two, Kutta will integrate its Federal Aviation Administration (FAA) certifiable Ground Handle Station identified as the UGCS-178 into the MOB and further enhance the COP interface on an Android platform.
&#13
Kutta Technologies, Inc. is primarily based in Phoenix, AZ and is a leading developer of high reliability mission-essential application and systems for the aerospace sector. Kutta's solution lines contain: The Bi-Directional Remote Video Terminal (BDRVT®), Unified Ground Control Station (UGCS-178), Kutta Rugged Laptop (KRC), and Manned / Unmanned Teaming Kit (MUM-178). For much more details please check out http://www.KuttaTech.com or call 1-866-574-9990.
&#13
&#13
&#13
&#13
&#13